This tutorial will walk you through the configuration of email using Outlook. For this tutorial, we are using Outlook 2016 on Mac. If you are using a different version or operating system, these instructions may differ.
You can log into your email at webmail.sentree.io
Step 1: Open Account Settings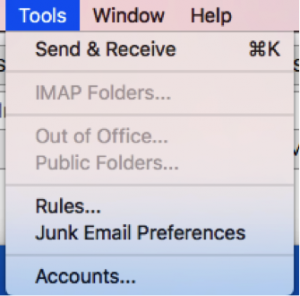 Launch Outlook, click on Tools, and select Accounts…
Step 2: Add Mail Account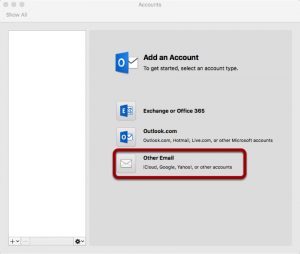 Select Other Email
Step 3: Enter Account Information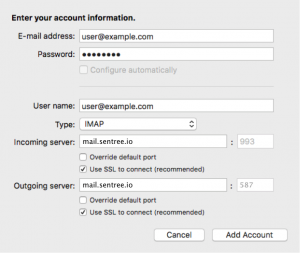 Enter the following information:
Email Address:
Enter your full email address.
Password:
Enter the password for your email address.
User name:
Enter your full email address.
Type:
IMAP.
Incoming and Outgoing Server:
mail.sentree.io
Port
Incoming server: 993
Outgoing server: 587
SSL:
Use SSL to connect
Click Add Account